Doug and Lillian Rand welcome you to Billy's. The proud new owners of Billy's Tap Room and Grill are also the owner/operators of The Potato Patch in neighboring DeLand. "Doug and Lil", as they are affectionately known, are committed to making Billy's Tap Room a restaurant where old and new friends can enjoy their old time favorites freshened up and exciting new menu ideas, along with great wines and spirits and great times. Doug and Lil are delighted you are with us tonight and thank you for your patronage!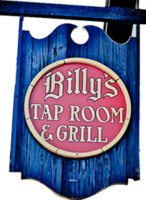 Billy's Tap Room & Grill began as a Tea Room on the property of the beautiful Ormond Beach Hotel in 1922. The hotel owners asked Billy MacDonald, the lounge manager at the Astor and Plaza Hotels in New York City, to move to Ormond Beach to manage The Tea Room. In 1926, Billy purchased our current location, opening it as a drug store/soda shop/restaurant . The MacDonald's lived in the upstairs room, which today is affectionately named "The MacDonald Room." In 1939 the family purchased a neighboring home for $3,900, which is currently home to the Ormond Beach Historical Trust, just a few doors west of Billy's.
For the first years of business, Billy's sold fruits, jellies, newspapers, sandwiches, and gifts. During Prohibition, there were rumors of homemade beer and slot machines in the back room reached through the locked swinging doors released by a button behind the bar. According to Frank MacDonald, eldest son and ultimate impresario of Billy's, "in the mid 1930s the gift shop shrank and we began to serve dinner and Billy's expanded into the store next door to make the main dining room. By 1937, with the end of Prohibition, the place was a true pub serving draft beer for a nickel and Manhattans for a quarter." In the early 1960s, the upstairs "MacDonald Room" opened for clubs like Rotary and the Lions to hold meetings. It continues to be home to the Ormond Beach Rotary Club, which meets every Thursday. In 1997, Billy's acquired an additional storefront and named it the "Shockney Room" in honor of Monk Noell's Uncle Ted Shockney. Both banquet rooms have retained their historic décor, with deep wood finishes and extensive photograph collections depicting the early history of Ormond and Daytona Beach. Feel free to take a moment and enjoy these glimpses back into the old days. Today, both rooms are used for banquets, parties, meetings, luncheons, dinners, and special occasions.
Frank and Billy Jr. decided to retire in 1985 and sold the business to the Young's, a couple from New Jersey. One year later, they sold the business to Kathy Jones. Monk Noell purchased the restaurant in 1990 and ran it successfully for the next 17 years, focusing on making Billy's one of the finest restaurants in Ormond Beach. In 2006, the Noell's sold Billy's Tap Room & Grill to Maria Szabad-Reisch, originally from Holland. In 2011, Lil and Doug purchased Billy's and we are proud to continue the tradition of Billy's as a place for great food, fine spirits and the old time friendly atmosphere that has been an Ormond mainstay since 1922.