Hungarian Folk Art Museum
Housed in an astonishing and grandiose Neo-Renaissance palace in Kossuth Square (meaning superb and easy to reach location) right across the Hungarian Parliament, the Museum of Ethnography has a collection of around quarter of a million objects on Hungarian folk traditions.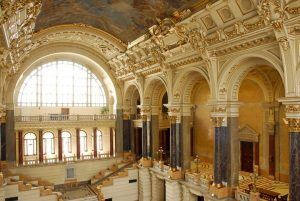 Staircase of Museum of Ethnography in Budapest
Being one of the earliest ethnographic museums in Europe, the Museum of Ethnography has been collecting, researching, archiving traditional and modern cultural artefacts of Hungarian and European communities since 1872.
Originally established as part of the Hungarian National Museum by the Austro-Hungarian professor and member of the Hungarian Academy of Sciences, Alajos Hauszmann, the museum became an independent institution in 1947.
The staircase and the richly decorated walls of the museum along with the ceiling art alone are well worth the visit.
Permanent exhibitions, such as, "The Traditional Culture of the Hungarian People", features about 3,000 items from different eras, clothes, bridal dresses, handicrafts, every day items, folk music recordings etc.
With foreign-language audio tour guides are available, the Museum of Ethnography is a must see experience for those who would like to learn about the rich culture of Hungary.